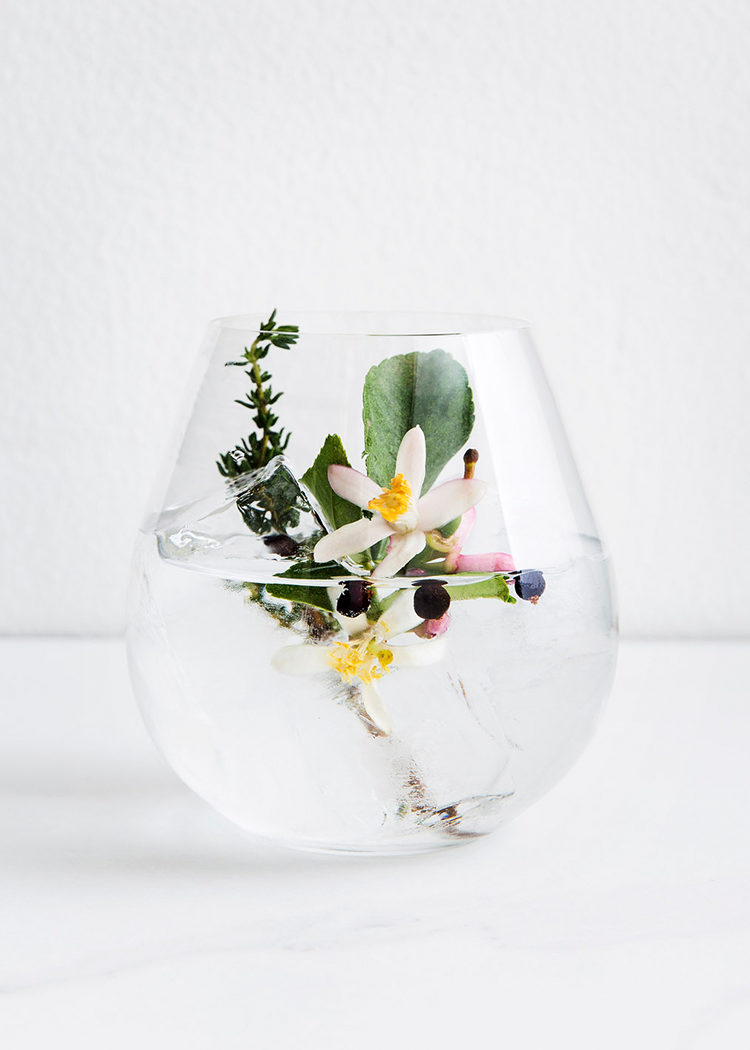 There are some simple, yet crucial gin and tonic making checklist, and there are some essential gin, tonic, and garnish combinations that you should be aware of! 
However, panic not, here is your ultimate G&T guide, including both alcohol and non-alcoholic versions so you can enjoy your favourite sparkling drink no matter what your personal liquor preference. 
How to make the perfect G&T – Here's a step-by-step guide... 
1. Select the Proper Glass
Before you even head to the liquor cabinet, make sure you select the perfect glass. Although a highball glass can be used, the ideal G&T glass is a Copa glass. Copa glasses allow you to collect the botanical scent of your gin and the garnishes you add.
2. Ice, Ice, Ice!
An essential part of the perfect G+T is ice. Your glass should be full of ice cubes – don't worry about going too overboard, ice keeps the glass and drink perfectly chilled.
3. Choose Your Favorite Gin
The type of gin that you choose to make your G+T with is completely up to you and depends on your personal taste – some people like fruity gins, others go for the premium classics, and others like to go for an innovative variety! 
Dr John, the master distiller of English Spirit, told us that he, "firmly believes that the simple pleasures are often the best. He believes that a good chef uses only a few herbs & spices to make a delicious dish and is the same uncomplicated approach we take to making gin. That's why we use a blend of only four botanicals; juniper, coriander, macadamia nut and citrus zests, which is made exceptional by using our signature base spirit". 
So, a simple, yet premium gin might be best to use! 
4. Always Use A Premium Indian Tonic Water
Regardless of the type of gin that you use, you should always use premium Indian tonic water to ensure you're getting the fizziest, purest, most delicious drink possible. You can even try a flavored premium Indian tonic water if you fancy it – there are a lot of interesting varieties out there. 
5. Know The Ratio & Mix
Too much gin, it's too strong, and too little gin makes it too watery, so make sure you know the perfect ratio. The general rule is that your G&T should be 1/3 gin and 2/3 tonic water. So, pop your gin in, add tonic, and mix!
6. Garnish It
Garnish is a vital part to the perfect G+T (and we're going to take a closer look at garnishes later on, if you're unsure of which to use!). You should choose a garnish, or garnishes that bring out the notes within the gin. For example, if you have used a gin with citrus notes, add a slice of lime or a dried orange slice. 
7. Smell The Aromas
Before you enjoy a sip of your G&T, put your nose close to the glass and breathe in. Smelling the aromas will impact the taste of the drink, seeing as taste isn't just perceived through the mouth. So, before you take a sip, breathe in the aromas of your beautifully made G&T. 
8. Exploring Garnishes – The Ideal Selection
Now you know how to make the perfect G&T, it's time to run through some of the garnish combinations – garnishes add aromas to the G&T, just as the gin and tonic do, so they're incredibly important!
Ideas For The Perfect Alcoholic G&T
Keeping it simple, adding classic citrus garnishes is popular, and for good reason. Jody, from Masons of Yorkshire, told us that "When we make a G&T, we like to keep it simple. Our gins are produced for outstanding flavour so keeping the serve simple allows that to shine through. Our signature serve for Masons The Original is plenty of ice, premium Indian tonic water and garnish with a twist of orange zest". 
Spicing things up is also a favored option, with common spicy garnishes including black pepper, star anise, and even chilli being popular choices. Jody, from Masons of Yorkshire, also told us that, "for those that like something a little spicier, serve with a twist of pink grapefruit zest and cracked black pepper." 
Add berries to compliment fruity notes within gin and bring a summery twist to a classic G&T. Our favourite berry garnish choices include juniper berries, blueberries, gooseberries and raspberries. 
If you're looking for a little tartness, or if you have chosen to use a gin with tones of rhubarb, you might want to consider dd a small stick of rhubarb to your G&T to add some zing to the classic combination. 
Ideas For The Perfect Non-Alcoholic G&T
Although adding garnishes to tonic can make it feel as if you're having a G&T (and you should definitely garnish, as well as follow the other guide rules apart from adding the gin, of course!), that's not your only option. Here are our favourite non-alcoholic G&T ideas. 
Using a non-alcoholic alternative to gin is a great way to enjoy all of the flavors that come with gin, but without the alcohol! Our personal favourite is the gin produced by Seedlip – they produce a variety of distilled non-alcoholic spirits. 
Try adding a premium cordial, such as an elderflower, blueberry, or passionfruit cordial can add some fun into your non-alcoholic G&T, as well as obviously bring beautiful flavors and aromas to the drink. 
Gin is made from juniper berries, but juniper berries aren't alcoholic! So, add them and get ready to taste the gin but not have to consume alcohol! You can either add them as a garnish, crush them slightly to let their flavor out a little more, or add a dash of juniper berry syrup. 
Let There Be G&T's!
Now you're a G&T aficionado, you're ready to create the perfect G&Ts for yourself and your loved ones, whether they're alcohol free or still containing a little bit of kick! Enjoy.