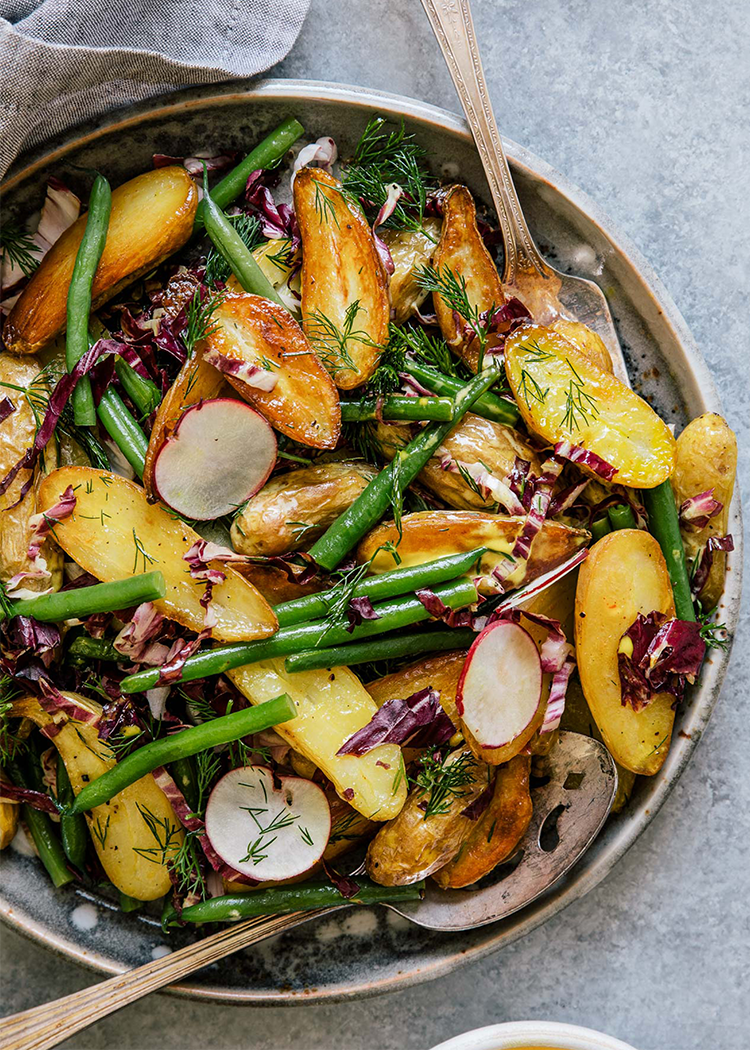 Ingredients List
1 pound fingerling potatoes 
large handful haricot vert 
1/2 head radicchio (thinly sliced) 
3 egg yolks 
2 tablespoons lemon juice  
1 clove garlic (finely minced) 
4-5 radishes 
1/8 teaspoons ground saffron 
2 tablespoons hot water 
small handful fresh dill 
sea or kosher salt 
freshly ground black pepper 
1 1/4 cup grapeseed oil or other neutral oil.
There's nothing better than a good hearty potato salad - but even better when it's drizzled with a delicious and tangy saffron aioli! Saffron is a great spice to cook with, and it pairs perfectly with potatoes. The bright red saffron threads add a wonderful colour and subtle flavour especially when combined with a lemony garlic aioli, and added blanched haricot verts and sliced radish for and added crunch! 
Saffron is renowned for its vibrant colour and contains an impressive variety of plant compounds that act as antioxidants to protect your cells against free radicals and oxidative stress. Plus, it's nicknamed the "Sunshine Spice", not just due to its distinctive colour, but also because it helps to brighten your mood.  
Though saffron is the most expensive spice in the world, a small amount goes a long way, and you often won't need more than a pinch in your recipes. In fact, using too much saffron can give your recipes an overpowering medicinal taste. 
The best way to draw out saffron's unique flavour is to soak the threads in hot — but not boiling water. Add the threads and the liquid to your recipe to achieve a deeper, richer flavour. 
This Potato Salad With Saffron Aioli is loaded with a variety of dimensions in flavour and texture, which will leave you feeling completely obsessed. Here's how to make it:  
How To Make It
1. Preheat the oven to 400 degrees. Slice the fingerling potatoes and add 1/4 cup oil. Add two heavy pinches of salt and some freshly ground black pepper and toss to coat. Roast for about 15 minutes until golden brown. 
2. Add the haricot vert to boiling water and boil until just tender, about 2-3 minutes. Strain and add to an ice bath to stop the cooking. Cut the haricot vert in half. 
3. To make the saffron aioli, ground a couple pinches of saffron in a mortar and pestle until you have 1/8 teaspoons of ground saffron. You can use already ground saffron, but you will get more intense flavour with threads of saffron that you grind. Steep the ground saffron in 2 tablespoons of hot water. 
4. Add 3 egg yolks to the Vitamix Aer Disc container. Add the steeped saffron, 1 tablespoon of lemon juice and minced garlic. Run the Vitamix on low speed for about 15 seconds. Remove the plug off the lid and slowly add 1 cup of oil in a small thin slow steady stream, increasing the speed as the aioli emulsifies. Add a large pinch of salt at the end. Alternatively, you can whisk the egg yolks, lemon juice and garlic together and with another hand stream in the oil while whisking the egg yolks with the other. 
5. Toss the fingerling potatoes in about 1/2 of the aioli another 1 tablespoon of lemon juice. Add more aioli if you need more to evenly coat the potatoes. Taste a potato and add more salt if needed. Serve the potatoes on a platter and add the haricot vert, radicchio, radishes and dill. Serve the remaining saffron aioli on the side.