It can reduce fine lines and wrinkles, clear up breakouts and acne, and cater to that dry skin or excess oil you can't seem to shift. A magic potion? No – just a good skincare routine. 
You'll be glad to know, we're taking it back to basics from expert dermatologists for a simple skincare routine that's easy to maintain day after day for more fresh-faced compliments, healthy skin, and a boost in confidence. Summed up, consultant dermatologist Dr. Zainab Laftah at Omniya Clinic, who is loved by celebrities and influencers alike, including Lydia Millen says, "A basic skincare routine should consist of cleansing morning and evening, moisturizing once to twice per day, and applying sunscreen." 
So whilst spending time in front of the mirror might not be your idea of fun, we've come up with the most efficient, no-fluff skincare routine to bypass the overwhelm of busy drug store aisles. We've taken the needless jargon away for the fast route to clearer, smoother, healthier, age-defying skin. Because sometimes, a bar of soap just won't cut it. 
1. Cleanse, twice daily
We asked the experts, and the decision was unanimous: cleansing is the single most important step to healthy, clear, youthful skin!. If you do one thing, do this. "Cleansing is the holy grail of a good skincare routine," says the founder of One Skin Clinic, dermatologist Dr. Najia Shaikh. 
So if you're the get-up-and-go guy, you're short on time or just looking to keep it super simple, squeeze cleansing into your routine before anything else. Dr. Shaikh tells us why. "Washing your face with a cleanser will remove any dirt and excess oils. Use a cleanser twice daily – once in the morning and once before bed. If you're applying SPF, I would also recommend a double cleanse, to ensure it's all removed." 
It's also important for the removal of dead skin cells, pollution, and impurities. Harsh weather, chemicals, and pollution can all affect your skin, and sometimes it's not obvious straight away, which is why the right cleansing routine is important to your skin health, now and long-term. Dr. Shaikh advises us with cleansing 101 to reap the most skin benefits. "Warm (not hot) water is always best when cleansing the skin as it allows you to loosen the dirt on your skin but preserve the natural oils. Cleansing your skin clears pores ready for the moisturizer, serums, and oils that follow. "It also gets rid of any excess dirt gained throughout the day or overnight.  
When cleansing your skin the best practice is to have a damp face prior – you can do this by wetting your hands and face before you apply the cleanser. Using clean hands, use the tip of your fingers, gently massage your face wash/cleanser onto your skin with small circular motions and use light pressure before rinsing off with water.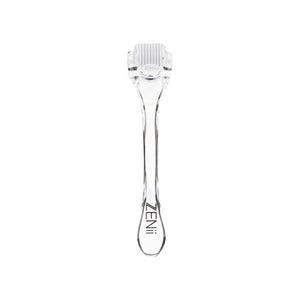 ZENii
Papaya Foaming Cleanser
Foaming Cleansers
2. Moisturize, twice daily
"Moisturizer hydrates the skin, leaving it plumped and protected. It also helps to replenish the moisture you lose daily, whether that's from showering or from cold winter air," says Dr. Shaikh. 
Retaining hydration in the skin is important to prevent premature signs of aging, prevent tightness, dryness, or irritation, and to radiate a healthy complexion. It preserves skin's healthy cells and provides a protective barrier to maintain soft, supple, smooth skin. Skin lacking moisture doesn't regenerate skin cells causing dry, flaky skin which can lead to the overproduction of sebum levels, the leading cause of breakouts. Reduce the chances of pimples, blemishes, and acne with the right moisturizer for your skin type. 
Moisturize right after cleansing or using a serum to rehydrate skin or lock in moisture after cleansing. All sorts of factors can cause the skin to lose its moisture daily, from pollutants and harsh weather conditions to chemicals and hormone imbalances. Apply on your face, neck, and chest area using clean fingers morning and evening in an upward motion to prevent skin sagging. Dry skin with a clean towel in a patting (rather than rubbing) motion to be gentle to the skin and retain any moisture from the cleanse. 
3. Apply sunscreen daily
To increase the chance of having softer, smoother, more youthful skin for longer, apply sunscreen daily to reduce skin damage, no matter your age or the weather forecast. Sun damage can cause premature aging in the form of fine lines, wrinkles, dullness, and leathery skin."While this may be the last step in your regimen, it is very important the older you get. The sun's UV rays are highly responsible for signs of premature skin aging as it goes deep into the surface of your skin, causing visible skin aging, such as wrinkles and fine lines," says Dr. Shaikh. 
Overexposure to UV rays increases your chances of developing skin cancer. Choosing a moisturizer or make-up with SPF can be a great way to protect and hydrate your skin without overloading it. Dr. Shaikh says, "As a doctor, I would advise SPF. You can make this much easier by choosing a two-in-one moisturizer with SPF 30+. This will help hydrate the skin while also shielding it from sun damage."
ZENii
Stem Cell Renewal Cream
Body Moisturizers
3. Exfoliate
Exfoliating can work wonders to smooth, refresh and revive the skin. It's essentially a deep, thorough cleanse where tiny solid particles work to buff away any loose skin cells on the outer layer of the skin. "Exfoliating helps remove the dead skin cells on your skin surface, revealing your skin's natural glow while also maximizing the effect of all the products you'll apply afterward in your regimen by increasing the penetration of anti-aging ingredients for brighter skin," says Dr. Shaikh. 
 "Exfoliating is not necessary for everyone. If needed, it helps address skin issues for example blackheads, excess oil production, and dull complexion," says Dr. Zainab. Irritated, dry, or sensitive skin could have an adverse reaction to harsh exfoliants, so it's a good idea to treat your skin with care. Avoid altogether or choose gentle formulas to steer clear of rashes or redness. 
Even those who can exfoliate should do so sparingly. Your skin produces natural oils that are good for hydration and protection.  
Exfoliation needn't be a daily occurrence. Instead, once or twice per week could be beneficial to retain moisture, tackle specific skin issues and help your other skincare products to absorb into the skin with ease. 
5. Use hyaluronic acid
If you've been browsing your local skincare counter, you might notice how many products have hyaluronic acid in them. Fear not – it's not as scary as it sounds. Hyaluronic acid is like a big drink of water for your skin – especially effective if it's feeling tight or parched.  
Dermatologist Dr. Shaikh gives us her take on the super-moisture hero ingredient taking the skincare world by storm. "Hyaluronic acid takes in an incredible amount of water and then traps it in the skin. It helps moisturize your skin and helps fill in those fine lines for younger-looking, plump skin." It works by pulling in water then trapping it, acting like a sponge. And all that hydration works wonders for your complexion making it smoother and softer radiating a healthy, youthful glow.  
Perfect for thirsty, dehydrated skin in need of a moisture quench. Consider hyaluronic acid when you've been exposed to harsh weather; either from warm, humid conditions that can dry out skin, or chapped skin caused by harsh winter winds or cold spells. And no, it's not the type of acid that burns either. Hyaluronic acid is a naturally occurring substance in our joints, eyes, and skin. It's usually used in the form of a serum or combined with a cream or gel for an extra dose of hydration. 
ZENii
Hyaluronic & Tri-peptide Serum
Serums
6. Tackle premature aging with retinol
If you have started noticing fine lines and wrinkles, it might be time to try retinol or retinoids. Dr. Zainab says, "Retinols and retinoids have the best evidence for anti-aging. They fade pigmentation, and reduce fine lines and wrinkles by stimulating collagen synthesis." 
Dr. Shaikh agrees: "When it comes to anti-aging, retinol is one of the most powerful ingredients you have in your beauty regime as it helps surface skin-cell turnover. Trying a deep moisturizer with retinol with a powerful formula will help you notice the reduced appearance of these fine lines and wrinkles." Equally "using a serum or oil with vitamin B3 for visible improvements in fine lines and wrinkles, smoothness, brightness, firming, and dark spots would help in the night, or in the morning, a firming based serum for superior firmness and hydration could work." It is best to use a serum after cleanser, but before any moisturizing products like spot creams, oils, or your moisturizer." It's best to gradually incorporate serums into your daily routine to avoid skin irritation. 
Know your skin type
Knowing your skin type can filter the grooming products on the shelves significantly. Different types of skin include dry, oily, sensitive, breakout-prone, acne-prone, combination, or dull complexion and it might be that you want to tackle physical signs of aging like fine lines and wrinkles. 
Once you've identified what your skin type is and problem areas are, choosing skincare products that suit your skin and combat insecurities will be much simpler. Dr. Zainab says, "The basic skincare routine applies to all skin types. The difference is the type of cleanser and moisturizer needed. "For oily or blemish-prone skin choose a gel or foaming cleansers to help lift oil and dead skin build-up". Opt for non-comedogenic skincare products to reduce the risk of clogging pores. "For dry or sensitive skin choose hydrating cream cleansers and moisturizers to optimize the skin barrier function."
Whilst there are many products on the market, taking it back to basics is best. Dr. Zainab says, "Keep it simple! A simple skincare routine has many benefits. Once established, incorporate one ingredient at a time to help target any additional skin concerns." For beginners, start with a cleanse, moisturize, and daily sunscreen. When you've nailed that, consider introducing a serum, retinol, hyaluronic acid, or exfoliant to your skincare routine to tackle specific skin concerns.