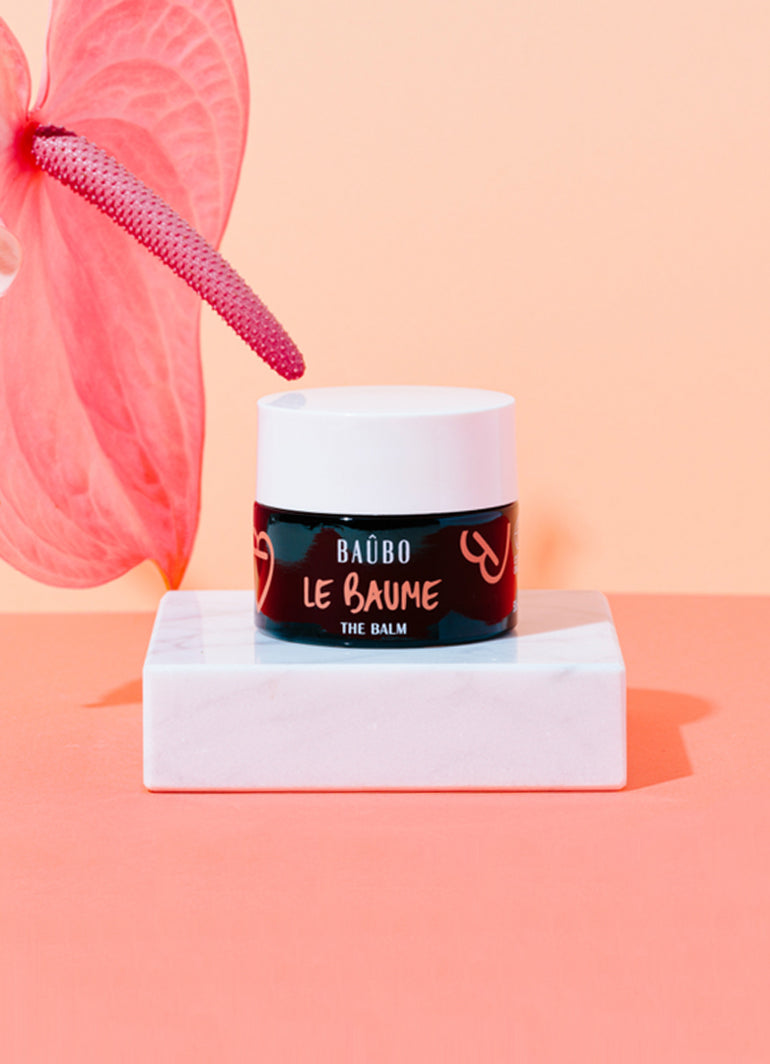 Relieve vulva irritation and intimate dryness after sex, exercise, during menstruation, menopause, or any other discomfort with Baubo's Le Baume. This cult, innovative formula, will hydrate, soothe and soften your vulva so you can feel nourished and cared for. Using a 100% natural and organic formulation, Baubo is the fiercely feminine, change-makers making waves in the women's care space for not just a first-of-its-kind product, but for advancing the conversation around women's independence and liberation in personal care and sexual health.
Why you Need It
99% of women and people with vulvas said they have experienced vulva irritation, stinging, and discomfort at some point in their life because of sex, changing hormones, medication, and even tight clothing. Sex often causes vulva irritation and sensitivity – it's completely normal, and experienced by women and people with vulvas worldwide. Hormones can affect our vaginas, vulvas, and natural lubrication (or the lack thereof) in our intimate areas, hence why we can feel discomfort at particular times of the month like menstruation or during menopause. Cycling, spinning, exercising, even wearing tight jeans and leggings can be uncomfortable, causing itchiness, stinging, and discomfort. As an everyday occurrence, it makes perfect sense to have a safe, soothing balm that can provide relief. While it might sound superficial cosmetic product, the solution that Le Baume provides could make the world of difference to women and people with vulvas whose lives are significantly impacted.  
Up to now, there hasn't been a product that can soothe vulva discomfort, which can often have life-altering effects on relationships, sexual health, and general wellbeing. "It affects women's psychological state. It affects couples. It affects daily life," says Baubo co-founder, Cecilia Capece.   
"Before Le Baume, women didn't know that there was even a solution to vulva discomfort. They thought it was just a part of life that they had to get on with. We always knew this product was going to help women and people with vulvas universally, but now we are starting to really see the profound effect it has. We get messages from women telling us that it has saved their relationships, and changed their life. It's so satisfying to see how it's making a difference."  
How It Works
Le Baume is made from unrefined virgin 100% organic, natural oils – coconut, avocado, jojoba, calendula, and beeswax – that help to soothe irritation, relieve discomfort, and heal and soften skin. Le Baume was created to be used as a women's care product, rather than a sexual health product or a medical product. "We wanted to create a product just for women, to promote self-love," explains Capece.  
"We created the Le Baume that puts a focus on and emphasizes that 52% of the world has a vulva, and nothing was being done to take care and feel good in this area. It's a cosmetic product; it's not a product to 'be ready' for men. It's just for us women and people with vulvas to feel good in our bodies, in our sexual life; to be able to have sex again if we want to, but don't feel able to because of vulva irritation. We still don't talk about women's desire enough without speaking about the man's point of view. They shouldn't always come into it."  
Founders, Cecilia and Bethsabee, sought to go the extra mile to get Le Baume gynecologically and dermatologically tested to ensure that the formula was completely safe on the vulva. They are a B-Corp company – the gold standard of ethical certification for their company practices and policies, including their sustainable packaging.  
Why It's Unique
Put simply, there's no other product like this. When explaining Le Baume's universal appeal, Capece says, "We can explain Le Baume in one sentence and they get it instantly because they've experienced it," says Capece.  
Being a female-founded company launching a brand new product that had previously been considered a taboo subject, Baubo had their work cut out, but as Capece explains, they stuck by their instincts and didn't falter or shift when they came up against roadblocks. 
"Being able to apply Le Baume straight from the jar to your vulva with your hands was something that was important to us – something that at the beginning, cosmetics professionals advised we change. They told us to include a spoon or spatula with it. Aside from this being plastic, even if we put our fingers in the jar bacteria cannot proliferate thanks to its 100% oil-based formula and our vulvas are not dirty. 
"They are a part of our body that we should feel comfortable touching. Touching our bodies is a part of self-love. Some women don't feel comfortable touching or even looking at their bodies, and we want to change that by increasing touch to enhance self-love and self-care that's just for women; no one else."  
"There is no hygienic element. It's a part of our body. Let's not be afraid of it. We always went with our gut on these decisions. Back in 2015 at the beginning of the project, some cosmetics professionals tried to tell us what we should write on the jar – "Don't write the word 'vulva', they said"."  
"Many of the messages we receive from our customers are still private messages, which shows we still have a way to go to liberating women's health; for it not to be a taboo subject, but things certainly continue to get better. Humbly, we know we played a part in raising this topic around women's health and liberation in the mainstream."  
And nothing encapsulates that feeling, and Baubo's values, better than the Greek goddess they're named after. Baubo was a fun-loving, bawdy, sexually liberated goddess who didn't take herself too seriously and was known as the goddess of laughter.  
On behalf of all women and people with vulvas, Baubo are changemakers leading the conversations and culture around women's personal and intimate care to be discussed openly, without hush-hush tones, without embarrassment or censorship, as their tagline puts it: #freefromtaboo