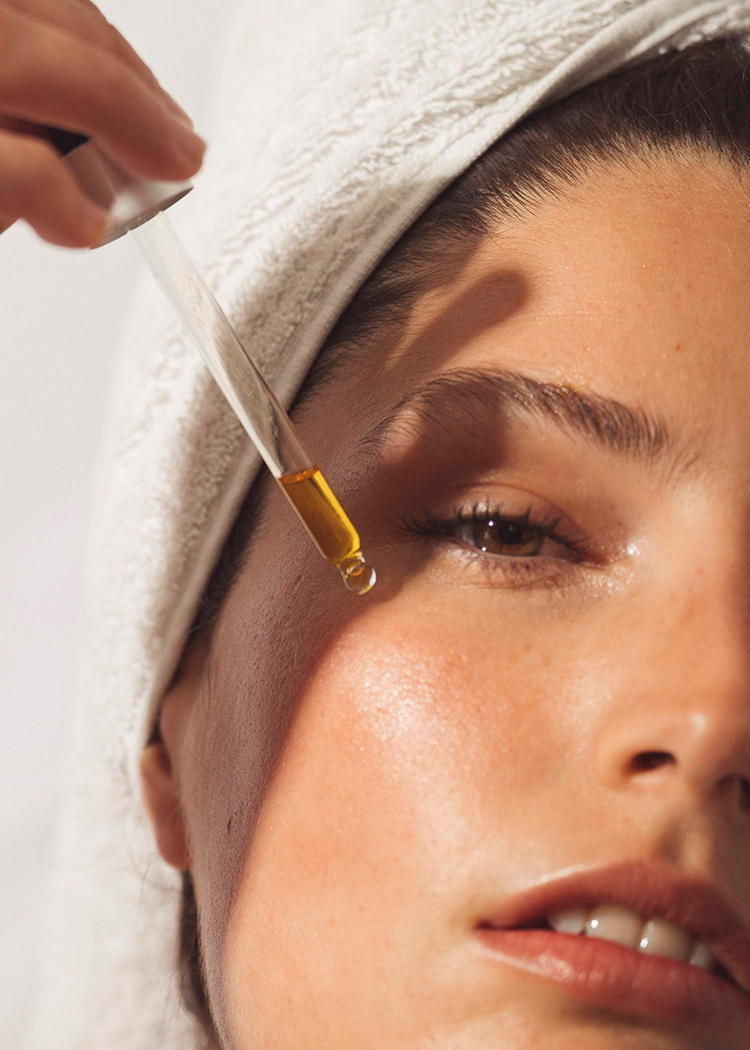 They call it a glow-up for a reason! Dewy, radiant skin is a tell-tale sign of health, vitality, and vibrance. But it's not just the outside that counts. Facial oils not only add luminosity to your skin, but they act as a protective sealant to lock in moisture, and enhanced hydration means better skin all round. 
We know what you're thinking - Do you really need to add another step to your skincare routine? 
To help you decide, we've quizzed the experts to find out how face oils work, what the benefits of using them are, and how to choose one that's just right for your skin type. So, whether you have dry, irritated, sensitive, or oily skin, or if you want to tackle fine lines and wrinkles with an anti-aging formula, we have a list of the best facial oils for every skin type. 
HOW DO FACIAL OILS WORK?
Contrary to popular belief, facial oils aren't just super moisturizers. Rather, used correctly, they seal moisture in to prevent hydration from escaping. To use the scientific term, they are humectants. That means, rather than pulling in water as your moisturizer does, face oils actually act as a sealant and barrier to stop moisture escaping, and then the ingredients in each oil get to work nourishing, reducing inflammation and feeding your skin with goodness. 
They help your moisturizer work harder to repair and restore promoting healthy cell regeneration and in turn, skin appears brighter, firmer, and glowing. The secret to skincare success when choosing your facial oil is choosing one that's right for you. Different products contain a myriad of ingredients that boast different benefits according to your skin type and your specific skin concern.
HOW TO APPLY FACIAL OIL
For most effective results, when you apply your facial oil is important. Always apply after moisturizer (or make it the final step of your skin routine, waiting for it to fully absorb for 10 minutes before applying make-up) to help lock in moisture. 
Apply to cleansed, toned skin according to the product instructions. Facial oils are highly concentrated so a small amount goes a long way. 
Experts say the best way to apply during your self-care routine is patted onto clean skin. If you must rub in, it's best practice to sweep lightly in circular upward motions or mix with your moisturizer or foundation for a dewy, glow-boost. 
BEST ALL-ROUNDERS
If you prefer a pared-back or natural approach to skincare, Dan & Lion's Ever Oil will be your glowing saviour. The multi-purpose formula solves almost every skin issue for an all-round nourished healthy complexion with good-for-the-planet ingredients. 
An optimal blend of botanic ingredients penetrates into the skin's lipid layer to lock in moisture, gently exfoliate over time and balance natural sebum levels. Anti-inflammatory and antioxidant properties reduce congestion and create a barrier against harsh weather, UV rays, and pollution to deliver a healthy, youthful glow.
Dan & Lion
Ever Oil
Facial Oils
BEST FOR ACNE-PRONE OR SENSITIVE SKIN
Dryness and a lack of hydration can lead to our skin producing excess oil that leads to pimples and breakouts. Jojoba oil mimics the natural sebum production of our skin to hydrate skin and helps other useful oils to absorb into the skin. Detoxifying Ylang Ylang Jojoba Oil from Wisdom Cares delivers a moisture-packed, antioxidant-rich vitamin boost for the skin.  
Nourishing grape seed oil also balances healthy oil production and contains antioxidant properties to protect against free radicals that can damage healthy skin caused by external aggressors like pollution, weather, and UV rays. Apricot kernel oil, rich in Vitamin A, protects and repairs to boost complexion, exfoliates, and unclogs pores for healthy, clear skin. 
BEST FOR DULL SKIN
Breathe life into dull skin with Olverum's Pure Radiance Facial Oil. The combination of sustainably sourced essential oils and botanical extracts features the first natural retinol alternative, Bakuchiol. This gentle, innovative ingredient works in synergy with rosehip and cacay oils to firm, plump and balance skin without the harsh, drying effects retinol can have. 
Anti-aging patchouli extract, a powerful CBD alternative, reduces fine lines and wrinkles and blurs age spots to enhance vitality and youthfulness. Biotic antioxidants Vitamins F, A, C, and E stimulate collagen synthesis for a smooth, dewy complexion. Rich in micronutrients, the Pure Radiance Facial Oil penetrates the skin's protective barrier to seal in moisture helping to prevent oxidative stress from pollution and UV rays – the leading causes of premature aging. 
BEST FOR DRY SKIN
Harsh weather conditions from dry, humid heat and sharp, cold winters can take their toll on your skin's protective barrier leading to flaky, dehydrated skin or angry breakouts. Flora & Bast's deeply nourishing Omega Oil's unique formula is created using an ingredient from the powerhouse plant of the moment, CBD's sister, Cannabis Sativa extract from the hemp plant. 
Cannabis sativa extract has antioxidant-rich, rejuvenating, and calming skincare properties. Stressed-out or tight, dry skin is soothed and moisturized to restore balance and hydration without clogging pores. "By bolstering the skin's natural moisture balance, metabolism returns to baseline, allowing cannabis-derived activities to work their metabolic magic," says Flora & Bast.
BEST FOR MATURE SKIN
As we get older, our skin loses its collagen and elastin. This loss of firmness leads to fine lines and wrinkles, and over time, our skin's ability to repair itself slows down too. Although we can't stop the skin's natural aging process, we can slow it down by ensuring we stay hydrated and use sunscreen daily. Specific ingredients in our skincare routine can help to slow down this process too. 
Wisdom Cares Neroli Oil is a natural blend of ingredients that hydrate and nourish skin with vitamins, fatty acids, and antioxidants. Moisturising and soothing avocado oil restore elasticity while fatty acids in rosehip oil regenerate skin cells and repair damaged tissues. "Rosehip is also rich in trans-retinoic acid that helps prevent premature aging," says Wisdom Cares founder, Chloé Millet. Vegan-friendly Neroli Oil contains argan oil boasting anti-inflammatory properties, reducing the appearance of fine lines and wrinkles by supporting the production of healthy collagen. 
BEST FOR OILY OR ACNE-PRONE SKIN
Now, for those with oily or acne-prone skin, you might have never even considered a facial oil; the very word 'oil' striking instant fear in you. We've been told for years by the beauty industry that oil is bad because excess oil production can lead to blocked pores, breakouts, and acne. However, there are some facial oils out there that can help with reducing blemishes, pimples, and breakouts – you just have to know which ingredients to look for. 
As counter-intuitive as it sounds, facial oils can help balance your natural oil levels, without stripping your skin. Choosing lightweight ingredients in a facial oil mimics the natural sebum production in our skin to lend it a helping hand, particularly for supporting premenstrual breakouts. 
Made specific for oily skin, Shiffa's Emerald Clarifying Face Oil is ideal for purifying, balancing, and breathing life back into dull complexions for that healthy glow and confidence. Shiffa says, "It utilizes only those oils highest in linoleic acid to both nourish oily skins and help prevent breakouts." Linoleic acid makes the skin barrier stronger, keeps hydration in and pollutants and toxins out – a recipe for healthy, clear skin.
TIME TO GIVE A FACIAL OIL A GO!
With anti-aging properties aplenty, a boost of hydration, and an illuminating glow – now nourishing your skin with a facial oil to suit your skin type and lifestyle is only a click away.