The "slow beauty" philosophy is exactly that —a return to a slower, simpler beauty and self-care practice. It emphasizes the essentials, rather than an overload of beauty products and rigorous routines. It's about taking the time to indulge in your beauty ritual, after all, beauty is a sensorial experience, and slowing down can help you discover new value in the products you own or purchase. 
Essentially slow beauty can be considered a holistic concept - as we know beauty starts from within, so it's about encompassing a gradual and mindful approach to your self-care routine: what we eat and the way we live, getting a good night's sleep, and making sure your body is getting a nutritional, balanced diet are all part and parcel – because at its core, slow beauty really is a lifestyle choice.  
Here's the good news, many clean brands inherently subscribe to this philosophy. So, we've rounded up some of our favorites so you can take the time to revel in the gorgeous scents, textures and nurture your body and soul. 
1. Nourish your body
A healthy body on the inside equals glowing skin on the outside. A balanced diet gives your body the nutrients it needs to function properly - But let's be honest with today's hectic lifestyle, so many of us are lacking in key minerals and vitamins. Zenii's Super Foods is an organic whole food powder blend of 35 plant-based superfoods designed to deliver an abundance of micronutrients that help support health and longevity, and are packed with vitamins, minerals, antioxidants, and phytonutrients. Super fuel your health with Turmeric, Acai, Bilberry, Shiitake Mushroom, and Flaxseed to support your immune system, gut health, brain, heart, and skin health. Plus, Chlorella and Spirulina also help to support the detoxification of heavy metals and toxins from the body. 
ZENii
Superfoods
Not Suitable
2. Move freely
Small steps, big differences! Whatever your fitness level, moving or stretching each day does wonders for your health. It's a way to reconnect with yourself, stimulate blood flow, clear your mind and enhance productivity. The combination of Omega 3 supplements and regular exercise has been shown to significantly improve cardiovascular and metabolic health. Marie Reynolds Ocean EFA capsules not only help improve your mood and regulate your weight but also maintain a healthy brain and help to support blood circulation. The best part - unlike fish oil, Krill Oil does not cause a fishy aftertaste and is also more easily absorbed by the body and contains higher amounts of astaxanthin than fish oil.
Marie Reynolds
Ocean EFA
Not Suitable
3. Get a good night's sleep
Sleep is the ultimate time for your body to cleanse and repair. When we sleep, our bodies have time to recharge and adequately heal any damage we've done throughout the day - damage that can make us look older and feel less than our best! With Flora + Bast's Age adapting Sleep Tincture, you can finally get the beauty sleep you deserve, every single time! It helps you fall asleep with greater consistency and ease, stay asleep longer, and wake up feeling more refreshed. It's rich in Phyto-cannabinoids, terpenes, flavonoids, and fatty acids. Plus, It's free of water, preservatives, surfactants, and fillers that are known to cause irritation.
4. Boost your energy & mood
With today's hectic lifestyles and demanding pressure, our bodies and hormones are constantly put to the test. Wunder Workshop's Golden Balance helps to maintain your balance day in, day out. An organic, adaptogen blend with extracted KSM-66 Ashwagandha and Turmeric for a distinctly potent herbal resistance to burn out. Rich in iron, Ashwagandha improves alertness as well as strengthens the body's response to stress and anxiety by reducing adrenal fatigue and stabilizing thyroid hormones. This unique blend of Ayurvedic herbs and spices is designed to combat a stressful modern lifestyle by managing cortisol levels and improving hormone balance, proving you with those much-needed zen vibes!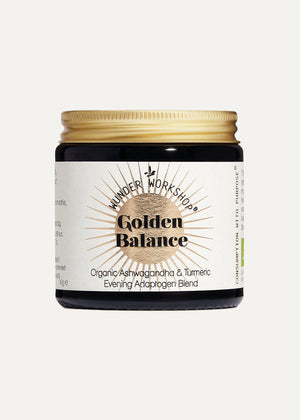 Wunder Workshop
Golden Balance
Not Suitable
5. Pick Natural Cosmetics
Choosing natural cosmetics is key to Slow Beauty. Natural products do not contain harmful and toxic chemicals, nor harsh preservatives, or synthetic ingredients that may irritate the skin or block pores. La Fervance's Eclat Extraordinaire is a world's first in 100% natural active clean beauty. Expertly formulated, dermatologically tested and COSMOS approved. It boasts 67% active ingredient and is perfectly balanced with double Hyaluronic acid, bio-active complex Mountain Harvest™ from Australian mountain plant extracts, Mimosa and Jojoba extracts, Baobab lifting gel, Buriti Oil, Kakadu Plum extract, Vitamin E, 23K Gold, pearly pigments and pure seawater from the French Breton coasts. It provides the ultimate natural luxury balm for gorgeously plump, glowy skin.
La Fervance
Eclat Extraordinaire
Face Balms
6. njoy your skincare ritual
Slow beauty is luxuriating – so should be your skincare routine! Everyone loves to be pampered and doing so releases endorphins, boosts your mood, releases tension, and quiets the mind - so why not make that a daily occurrence? Try face rolling – designed to be used to gently massage the face and stimulate the lymphatic system to get rid of toxins, ease muscle tension, decrease puffiness and stimulate blood flow to increase your skin's glow. Shiffa's Jade Roller, used alongside Shiffa's Emerald Clarifying Facial Oil for oily skin, or Shiffa's Sapphire Sensitive Facial Oil for sensitive skin, will leave your skin feeling refreshed, sculpted, and radiant.
7. Disconnect to reconnect
Taking time out for yourself is not only part of slow beauty but also essential for your general wellbeing. Often, we need to take time out, to relax, unwind and recharge. Whether you're feeling tired, overwhelmed, or achy from hours spent hunched over your desk, a 20- minute soak with Olverum's mineral-rich Dead Sea Bath Salts and signature blend of essential oils will relax your muscles and leave you feeling lighter than ever. This therapeutic formula contains high-quality sources of magnesium, potassium, and calcium crucial for the repair of skin, nails, and hair. Plus, the crystals are further enriched with avocado oil, abundant in micronutrients, producing a deeply moisturizing solution to soothe the body and restore serenity to the spirit.