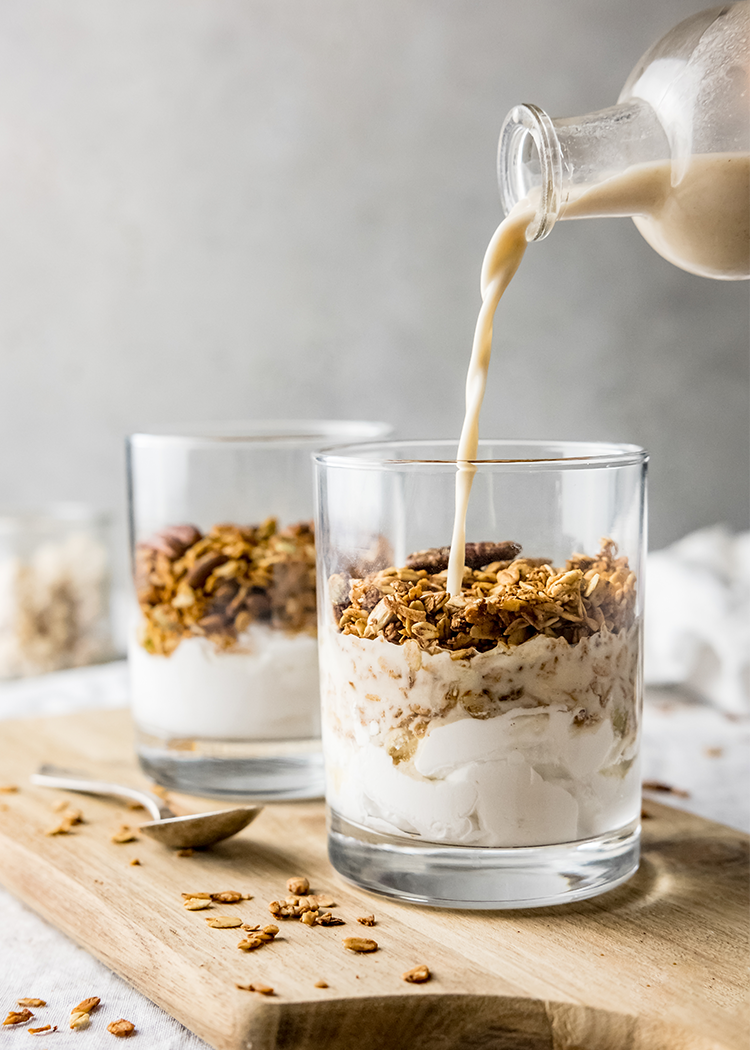 When you're bored of the same breakfasts every day, mix it up with some homemade crunchy granola. It's full of nutritious ingredients, is super easy to make, and tastes delicious! When eaten in moderation and made with healthy, wholesome ingredients, homemade granola can be a great source of protein, iron, heart-healthy fats, and fiber. Plus, it can satisfy that sweet tooth with healthier natural sweeteners amongst other nutritional goodies! 
This one, spiced with apple, is a handy way to add some fall flavors to your breakfast! If you're a beginner at homemade granola, this recipe is the perfect one to get started – healthier, tastier, and cheaper than the store-bought blends thanks to wholegrains, unrefined oil, and natural sweeteners. Trust us, it's so easy and delicious, you'll never look back! 
Brimming with an array of fiber-rich oats, nuts, and seeds, this crunchy granola is good for your gut health and your heart health. When we want to keep mood and energy levels sustained throughout the day, we need fiber and protein-rich foods like oats, nuts, and seeds to keep us satisfied for longer to avoid our blood sugars levels spiking and crashing which often causes that 3 pm slump when we're struggling to keep our eyes open at our desk (it happens to the best of us!) Nuts and seeds are a particularly great option to amp up your protein intake if you eat a vegetarian, plant-based, or vegan diet. 
Nutritionally, granola is also a good source of iron, zinc, magnesium, as well as vitamin E and B vitamins. Oats are among the healthiest grains on earth – a gluten-free wholegrain packed with vitamins, minerals, fiber, and antioxidants. They can reduce cholesterol levels, keep your appetite at bay (so a good option for weight loss), reduce blood sugar levels and increase the good bacteria in your gut, and we know a healthy gut means a healthy, happier you! 
Avoid harmful refined sugars but still get your sweet fix with natural sweeteners from the unrefined coconut oil, coconut flakes, and unsweetened apple sauce. Pecans and pumpkin seeds add crunch and flavor and can improve brain function, support normal cholesterol levels for a healthy heart, and stabilize blood sugar. 
Pumpkin seeds also contain zinc and are one of the best natural sources of magnesium – vital for regulating blood pressure and forming and maintaining healthy bones too! They both contain healthy fats that your body needs to function at its best. The cinnamon and nutmeg spices add a warming, fall flavor for the ultimate comfort food, but you could add ginger or pumpkin spice blends too. 
The great thing about granola is that once you've nailed your first batch, you can start playing around with different ingredients and flavors for the mix-ins. You could try mixing in dried fruits, citrus zest, and all the different types of nuts and seeds out there for your perfect blend. If you can bear to part with your crunchy mix, this granola would make a great homemade gift for someone special! 
To serve, pair your tasty baked granola with protein-rich Greek yogurt or milk of your choice, and a stack of fresh fruit for a nutritionally balanced sweet breakfast or snack!
Method
1
How To Make The Milk
2
How To Make The Granola
3
The Expert Tip