Conscious beauty, also referred to as clean beauty or green beauty, is about becoming more mindful of products that are not just good for our skin, body, and wellbeing, but good for the planet too. 
Becoming more eco-conscious means considering ingredients, packaging, as well as who and what went into creating the product. We get it – adopting a clear and conscious ethos towards your beauty and cosmetic consumption isn't always straightforward. It means taking extra time to research particular products and brands to find out whether they align with your values. 
You have to consider what's important to you – from all-natural ingredients, to vegan-friendly testing, eco-friendly certificates or zero-waste packaging. Celebrity facialist and skincare expert Pietro Simone, says that consumers "should consider the entire package – the knowledge offered throughout the web, which includes articles and features written on the products, reviews left by those who have used them, authentic social media postings and more."
This extra research will also help you to distinguish between which brands' actions reflect their green, clean or conscious claims, versus those who are guilty of 'greenwashing'. 
"Buy from an evidence-based research brand," echoes Aesthetic nurse practitioner and founder of Aurielle Aesthetics, Lucy Williams.
While it's impossible to break down clean, organic, or cruelty-free beauty into a neat guide, we can aim to provide more clarity with a dive into clean, green, conscious beauty to help you navigate a minefield, and discover planet-friendly products that actually work.
Green beauty & natural ingredients
Green beauty is all about naturally-derived ingredients, and sustainable practices in the creation process that doesn't pose any risk to the environment. This often includes nourishing botanicals, plant-based blends, and identifying whether a product is vegan, organic, or cruelty-free. Green beauty means taking a leaf out of our ancestors' books and looking to the natural world for healing and beautifying solutions. Look to Ayurvedic healing practices and Traditional Chinese Medicine for inspiration who have taken this natural approach for centuries, initially because modern pharmaceutical medicine didn't exist. 
 Ingredients to look out for are herbs and spices like turmeric, cinnamon and ashwagandha that act as powerful antioxidants and anti-inflammatories, as well as plant and nut oils like nourishing macadamia, castor, coconut, shea, argan, and jojoba. "Hyaluronic acid is great in adding more volume and hydration back into the skin. Lavender and aloe vera are great for soothing the skin during the winter months," says Williams. 
 Essential oils are often used for natural fragrance too, but natural doesn't always mean better. Essential oils can be very potent and dangerous to skin causing damage to its protective layer with burning, irritation or stinging, so caution and referring to trained aromatherapists is always advised. 
 It's always worth researching the source of ingredients to how they're obtained (for example, although natural, palm oil causes devastating deforestation), when they are bottled, and how they're stored. Many ingredients should be used in their prime and have a particular shelf life to maintain their potency – anything that lasts for years isn't likely to be effective. 
Sustainable processes & packaging
The cosmetic industry is one of the
biggest contributors to plastic waste on the planet, annually
contributing to 120 billion units of packaging globally, much of which
isn't recyclable. So, naturally, with increased pressure from consumers,
brands have had to adopt more eco-friendly practices and packaging. 
Sustainable
processes and packaging means taking more consideration into how the
product is made. For example, considering how to minimise or
eradicate the use of plastic as we face a worldwide plastic pollution
crisis, or using recyclable or recycled packaging. Sustainable should
point towards ethically-sourced ingredients, testing, and zero-waste or
biodegradable packaging, and minimal travel from source to bottle to
avoid excess travel pollution. This can often mean sourcing local
ingredients. 
Functional food brand, Wunder Workshop's
tagline, "Consumption With Purpose", reflects their business ethos.
They ensure that the farmers growing their ingredients are well-cared
for, ensure their ingredients are grown in biodiverse areas, and that
they give back to local communities. Their ingredients are ethically-sourced, practices sustainable, and even their London office is powered by 100% green energy. 
Next
time you run out of your product, consider whether there's an
eco-friendly alternative that you could try this time around. More
people have recently made the switch to using eco-friendly menstrual
cups instead of tampons and sanitary pads because there's zero waste
thanks to them being reused time and time again. Plus, they're
cost-effective!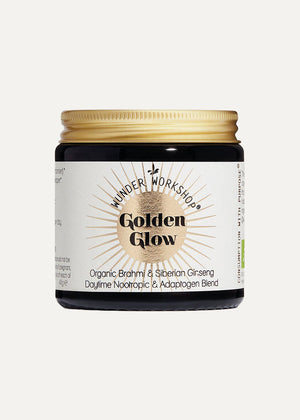 Wunder Workshop
Golden Glow
Not Suitable
Clean beauty
While there is a lack of regulation on the phrase 'clean beauty', it
often refers to products that don't pose any risk to human
health through the use of safe ingredients, with no added or hidden
extras. Toxic ingredients have been found to have short term adverse
reactions like rashes, itching and redness, to long-term exposure
increasing risk of cancer, diabetes and infertility, among other health
concerns. 
If you've got sensitive skin or an autoimmune disease,
you're probably used to scanning ingredient lists for potential toxins,
but the truth is, allergic reactions like redness, sensitivity,
breakouts, itchiness or dryness can happen to anyone at any time. They
can crop up with new products you're experimenting with, but even with
ones you've been using for years, with much of the damage going
undetected. So, when we talk about toxins, what are we talking about,
and why are they a cause for concern? 
Toxin-free beauty
It's worth keeping an eye out for labels that say paraben, sulfate or
silicone free – these are considered the three biggest toxins in beauty
products today, but there's also lots we often won't recognize on the
back of packaging like aluminium compounds, ethoxylated agents,
formaldehyde, refined petroleum, hydroquinone, talc, triclosan, silica
and oxybenzone. 
Research is still being carried out into the
dangers of particular toxins found in cosmetic products. EU regulations
are much tighter with more than 1,000 chemicals banned, compared with US
regulations where just 11 are banned. Many toxins have proven to be
carcinogens (a substance that can cause cancer), contain pesticides, and
be hormone disruptors which is seriously dangerous territory for your
health! 
Sulfates, which often feature in products to make them
frothy (like shampoo and cleansers), can actually strip your hair or
skin of that all-important protective outside layer, making your skin
and hair more vulnerable to dryness and breakage. Silicones are often
used in beauty products to smooth skin, but they can congest and
dehydrate your complexion, as well as stay in the environment for
years as they aren't biodegradable, potentially causing harm to animals
and people. 
Over recent years, products containing microbeads
(tiny particles of plastic not visible to the naked human eye) that used
to be found in exfoliators, have been banned in countries across the
world, and we're only beginning to realise the effect of them on human
health. They're thought to be endocrine disruptors that can cause
hormone-related cancers. 
Is the future of beauty clean?
Making the switch to clean, green beauty doesn't have to be overnight.
You could start by being more mindful about what you're consuming.
Instead of rushing out to replace the skincare and beauty products
you've used for years, branch out and experiment to test a new, more
eco-friendly product or brand.Will it make you consider your next beauty
purchase more carefully?