For some, the hope of a decent sleep is nothing but a far-away dream, tossing and turning their way through the night and getting little rest during. Now that many of us are working from home or, to put it another way, living in the office, our inability to switch off has been exacerbated leaving a particularly negative effect on people's sleep, causing us to be forced out of natural rhythms, and develop increasingly severe sleep problems and mental health issues. 
Of course, persistent or acute insomnia is something that you should seek medical attention for, but if you're tossing and turning is more of a nuisance, we've put together a list of our favorite products to help you get some rest. 
UNWIND & UNPLUG
Put away your tech and have one of those 'digital detoxes' everyone is raving about.  While you're at it, we recommend trying Motion Nutrition's Unplug supplement. It helps soothe your mind and takes you to an unbroken place of peace and tranquillity. If you're looking for a supplement that can help deter anxiety and lull you into a deeper sleep, then we've found the answer. It's made up of traditional botanical herbs that are filled with micronutrients needed for holistic stress relief. Rhodiola works to decrease every-day feelings of anxiety and stress, L-theanine induces absolute calm, balance, and sustained wakeful clarity, and magnesium works to support the nervous system and plays a vital role in many of the body's natural functions.  
If you want to work on getting your sleep back on track, there are several core ingredients that can help; Bacopa monnieri is perfect for promoting deep restorative sleep, Ashwagandha can help rebalance cortisol levels, which is known to disrupt sleep and cause repetitive waking, and the Montmorency cherry provides a natural source of melatonin, helping to ease insomnia and prolonging sleep.
Motion Nutrition
Unplug
Vitamins & Minerals Supplements
START THE DAY HOW YOU MEAN TO FINISH
We all have our morning routines that start with a tea or coffee – maybe even one or two!  But why not give your morning brew an upgrade? If you're not a fan of sleep supplements, then we recommend trying Wunder Workshop's Golden Balance to really kick start your day. This unique blend of Ayurvedic herbs and spices is designed to combat a stressful modern lifestyle, managing cortisol levels and improving hormone balance. The combination of Adaptogens and Turmeric is ideal for starting your day full of energy and helping you get a better sleep at night. The blend of Ashwagandha used is particularly good at preventing burnouts. Ashwagandha is also rich in iron, improving alertness as well as strengthening the body's response to stress and anxiety by reducing adrenal fatigue and stabilizing thyroid hormones. 
In our society's hectic lifestyle where our bodies and hormones are constantly put to the test, Golden Balance helps to maintain your balance day in, day out. Simply add ½ teaspoon to your favorite brew to get the relief and release you need.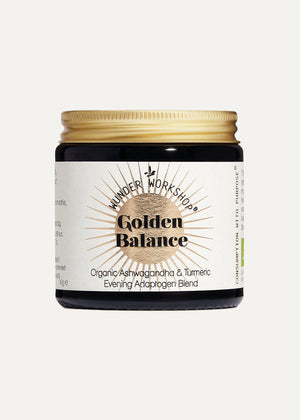 Wunder Workshop
Golden Balance
Superfoods & Adaptogens
SLEEPING GUMMIES ARE THE ANSWER
Ever heard of your circadian rhythm? It's another word for 'body clock', and it needs looking after. With Flora + Bast's Deep Sleep Bioceutical Gummy, you can finally get your body clock back on track. It helps you fall asleep with ease, stay asleep longer, and wake up feeling refreshed and revitalized. Optimal sleep duration, which for most people is between 7-9 hours of uninterrupted sleep per night, but without this people see an increased rate of biological aging and age-related symptoms, including both physical and cognitive decline. 
Cannabis aids sleep quality and duration by balancing circadian rhythms, allowing for more natural and restorative rest and recovery. Prescriptions and over-the-counter remedies can help you get to sleep, but degrade the quality of your sleep; enhancing the quality of your sleep by natural means helps enhance the body's ability to recover from both internal and environmental stressors that contribute to early signs of aging. Plus, with 100mg L-theanine and 25mg CBD per gummy, you're sure to sleep like a baby!
REST & RECHARGE
Often used to aid recovery after workouts - Bio-Energy's ZMA is not just the key to building the perfect physique, it's the perfect way to unlock a good night's sleep too. Taking one of Bio-synergy ZMA capsules before bedtime helps you get a perfect night's sleep and aids muscle recovery. The vitamin-mineral formula is made up of Zinc, Magnesium Aspartate, and Vitamin B6 - The combination makes it the perfect sleeping solution. Designed not only for muscle recovery, the enhanced protein synthesis increases muscle strength and size, whilst helping you get a restful night's slumber. When taken before bed, these capsules will help boost your muscle recovery, growth, and support a normal immune system, plus macronutrient metabolism. Zinc, Magnesium, and vitamin B6 are all extremely effective on their own, but when combined they pack quite a punch!
Bio-Synergy
ZMA Blend
Not Suitable
BOOST YOUR SEROTONIN
It's now more important than ever to take the time to focus on your wellbeing.  Nutrigold's 5-HTP complex is filled to the brim with vitamins, minerals, amino acids, and herbal extracts. 5-HTP (5-Hydroxytryptophan) is an amino acid that your body produces naturally. The compound is a precursor to the neurotransmitter serotonin, the key hormone that stabilizes your mood, feelings of well-being, sleep, and happiness. In fact, low serotonin levels are associated with anxiety, depression, sleep disorders, and even weight gain.  
Magnesium Citrate (which is found in 5-HTP) also contributes to the reduction of tiredness and fatigue, and supports normal function of the nervous system – perfect for those busy bees! Whilst L-theanine, another amino acid, can also be found in green tea and helps you to feel calm and balanced, and aids sustained wakeful clarity. Finally, P5P (the active form of Vitamin B) supports enzymatic conversion of 5-HTP to serotonin so your body gets the results it needs - All of these make the perfect supplement to fit in your day-to-day life!